You've prepped the land, sown the seeds, nurtured and watched them grow so when they are ready to eat……what do you do with them?
This page aims to give you some ideas of what you can do with your fabulous home-grown produce. We welcome you to send in your recipes and pictures to be added to the page.
Allotment Beetroot Burgers (v)
Ingredients
2 raw beetroots, peeled and grated
1 carrot peeled and grated
1 onion chopped
90g porridge oats
2 crushed garlic cloves
400g drained tin of chickpeas
3 tbsp hot sauce (I used chilli sauce, but any will do, or chilli powder, if you like them spicier add a chopped chilli or two)
1 large egg yolk
Salt, freshly ground black pepper and ground coriander to taste and Oil for frying
Method
1. To make the beetroot burger, heat a tablespoon of oil in a large frying pan over a low/medium heat. Fry the onion and garlic for 4 to 5 minutes until soft. Add the grated beetroot and carrot and cook, stirring often, for a further 5 minutes, or until soft. Drain off any liquid released by the vegetables.
2. Place the oats, chickpeas, hot sauce and egg yolk in a food processor and pulse to combine.
3. Tip the mixture into a bowl and stir in the grated vegetables, season with salt and pepper.
4. Divide the mixture into six and shape into burgers. Cover and refrigerate for at least 30 minutes before cooking. Fry, grill or BBQ as you would with a traditional burger. They also freeze well.
Courgette and Cheese Scones by Mick
Ingredients
450g self-raising flour
110g margarine
340g grated courgettes (leave skins on)
110g cheddar cheese (grated)
250ml milk (full fat or semi-skimmed)
1 tablespoon salt
2 level teaspoons baking powder
1 level teaspoon mustard powder
Method
1. Preheat the oven to 220°C (200°C for fan assisted)
2. Grate courgettes and place in a bowl then mix in the salt. Leave for about 10 minutes; use the time to prepare the rest of the recipe. The salt mixed with the grated courgettes helps to remove fluid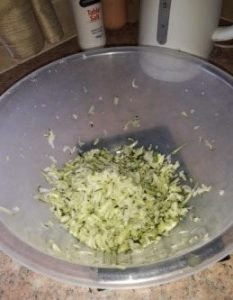 3. Sift the flour and baking powder into another bowl, then add the margarine and rub it in with your fingertips until the mixture resembles fine breadcrumbs.
4. Return to your courgettes, remove from bowl and place in a clean tea towel; hold over the sink and squeeze out as much excess fluid as you can; the more moisture you get out the better the end product, now empty the courgettes into the flour/margarine mixture and mix with your hands until evenly distributed
5. Add the grated cheese and mustard powder to your mix and stir well or mix with hands, to ensure fully mixed in.
6. Finally add the milk and mix to make a soft manageable dough. Add the milk a little at a time , this avoids getting the dough too wet
7. Tip your mixture out onto a lightly floured work surface and roll out the dough to about 2.5cm deep. Cut into rounds using a pastry cutter. Top each scone with grated cheese.
8. Place the rounds onto a greased baking tray and bake for 15-18 minutes or until the scones are well risen and a nice golden brown.
9. Allow to cool and enjoy