The Plot in Early March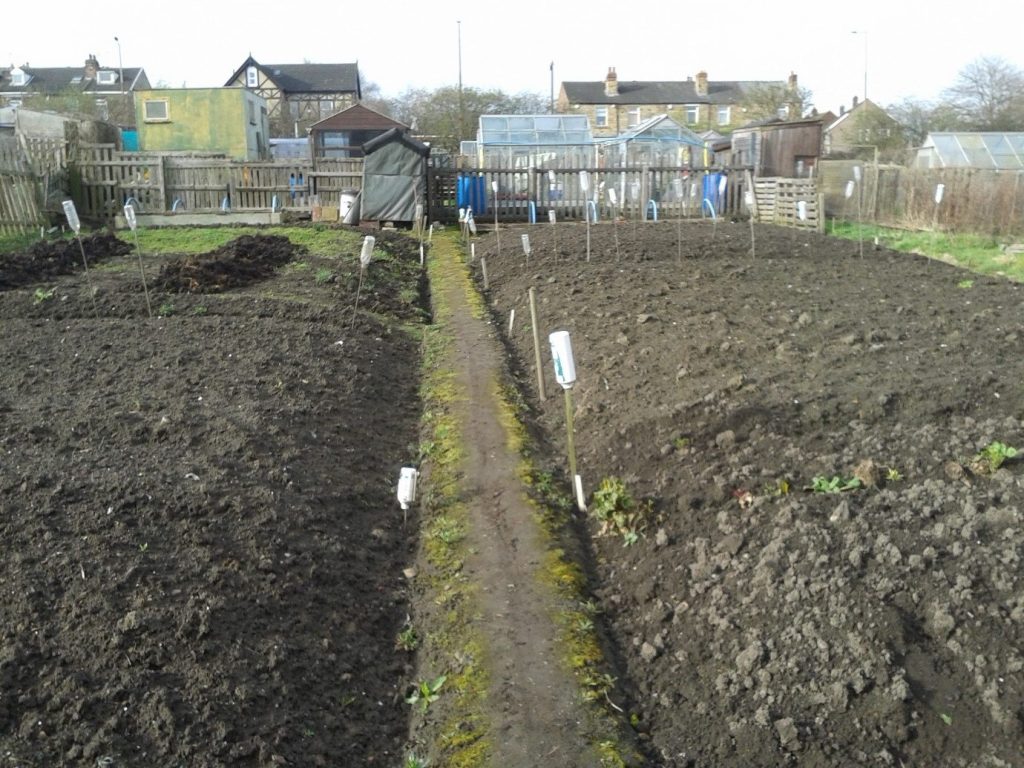 These two allotment plots have been cultivated by the same family for near on 50 years. Cultivations continue in the traditional allotment style using the three-year crop rotation system. This is basically Potato, well manured at time of planting, re-dug after lifting in autumn/winter. Following year area is used for legumes peas beans etc. Following cropping area lightly forked during autumn/winter to prepare a firm bed for following seasons planting with brassica cabbage crop. As winter cabbage, sprouts and such stand well into winter this area is then planted again next season with potatoes and there is the three-year crop rotation cycle. This uses fertility to the maximum and assists in disease control. See below specific areas detailed that don't fall into the rotation programme. Hopefully, further updates will be posted as the year progresses.
LEFT HAND SIDE TOP TO BOTTOM
* Raised bed with hoops—main crop carrot bed
* Just above annual weed covered area—parsnip bed (sown mid-March)
* Annual weed covered area—potato patch (manure ready for digging in at time of planting (late March early April)
* From manure—last years legume s (peas/beans) this years brassica plot (cabbage/sprouts /cauliflower)
* From white marker to bottom – onion bed (sets to be planted late March)
RIGHT HAND SIDE TOP TO BOTTOM
* Raised bed with hoops—early carrot (sown mid March)
* To line of canes—sweet corn, leeks, salad crops including beetroot.
* From canes to lower marker—legume area (peas/bens). Previous seasons potato patch.
* Below marker – chard/ other salad and courgettes.
Runner beans are grown bottom right out of picture. To right at bottom are compost area and tool shed.
John Palmer